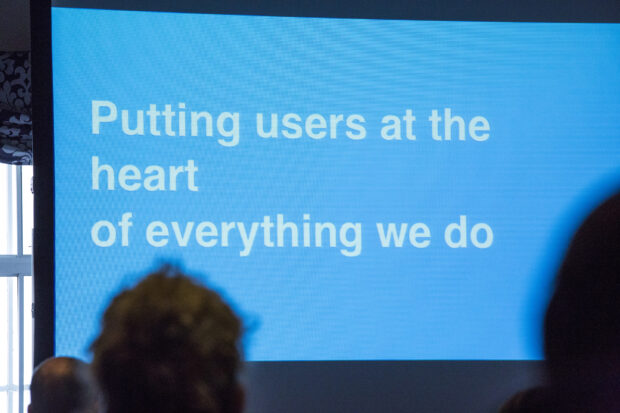 Ever wondered what community management involves at the Government Digital Service? My name's Suhail, and I'm a Community Manager at GDS - I'm going to talk about how we manage our communities day-to-day in this two-part blog series.
Understanding our users
Firstly, let me explain the different audiences we have across our social media networks at GDS.
On @GOVUK, it's pretty broad, namely the general public. These users are looking for, or want to be updated on, government information and services. They may also have questions about a particular service - be it passports, national insurance, or driving licences.  We believe that social media on @GOVUK should be an extension to the great service delivery we provide through GOV.UK. So we help users on Twitter by providing a user support function and listening to users' thoughts and concerns; using digital monitoring insights to feed back into iterating better service delivery. We'll go into more details about how we resolve user queries later.
On our GDS channels, our audience is more specialist -  design/tech/developer communities, wider civil service, local authorities - who follow us for the latest news, guidance and best-practice advice on digital transformation, data and technology in government. You can find us on LinkedIn, Twitter and YouTube and Instagram.
We use social media to describe the great work taking place, both within GDS and with our partners across government. We showcase the expertise we have in various areas, such as agile development, user research and content design - and we drive traffic to posts from our 14 dedicated blogs such as main GDS blog. It's important to us that we engage with our audience - it's much more than broadcast to us - so we invite and encourage user participation to help share ideas, to challenge us, and to gain valuable insights through interactive tools such as Periscope, Twitter Polls and surveys.
We can also show the human side to our team and bring the culture to life, as we did when GOV.UK turned three.
GOV.UK is 3 years old on Saturday. We're marking this today with balloons, cakes, bunting, conkers, and…a piñata. pic.twitter.com/FZUKj0gSbi

— GDS (@gdsteam) October 15, 2015
Our tools
I use a number of tools to help me manage communities including Sprout Social and Brandwatch. We've talked about why and where we use Brandwatch - it's mainly as an online monitoring tool. And that's still the case today.
Sprout Social is our social media management and engagement platform. It's the platform that we trialled, tested, compared to others (including free services) and concluded it's the one that meets our needs. Which you use depends on your needs and the needs of your organisation (and of course your budget).
What we use Sprout Social for
| | |
| --- | --- |
| We use it to: | This allows us to: |
| Monitor and tag user queries | Help meet our response times and track types of queries |
| Assign tasks to different community managers/individuals across GDS and government | Escalate queries to the appropriate individual/team to ensure a swift, accurate response |
| Schedule posts across all our social media platforms | Help with planning and organisation plus track our publishing efforts |
| Gather metrics | Analyse data across our owned channels for monthly digital engagement reports |
| Highlight influencers/detractors | Track the history of interactions with users. Having an understanding of the wider context of conversations can help us tailor responses, plus help build relationships (if necessary) |
Resolving user queries is a team sport
We receive hundreds of user queries a month ranging from car tax queries, visa, passport queries, and technical queries related to GOV.UK.
Our goal is to provide an excellent, quick service and make a positive difference to people's lives. We work with the GOV.UK operations team and other government departments to resolve these queries as quickly as possible. Our social media house rules states that we will respond within 4 working hours, although we are typically a lot quicker than this. People are increasingly turning to social media to give feedback or request help with a service. We're trying to make it easier, simpler and faster for users to access services and information on GOV.UK while on social media.
Two things I couldn't be without:
A standard response document:

this contains a list of the most asked questions with replies. It also lists our colleagues in departments who we can escalate issues to.





Some queries simply require pointing users to existing information on GOV.UK. Others need directing to the appropriate department on social media (for example

@HMRCcustomers

,

@DVLAgovuk

on Twitter). And finally, some need escalating to colleagues in other departments for further advice. We're looking for user satisfaction here. Providing a timely and a useful response to the user is crucial.

Fantastic colleagues across government

: as a community manager, it's essential we work with others because while GOV.UK is the face of government services and information, we don't deliver all the services operationally eg

driving licences

,

child benefit

. Whether it's finding answers to user queries, planning, generating content or analysing metrics, none of what I do is possible without the advice, support and close collaboration with colleagues from across government.
Here is a genuine example of a user requesting support via social media for a government service.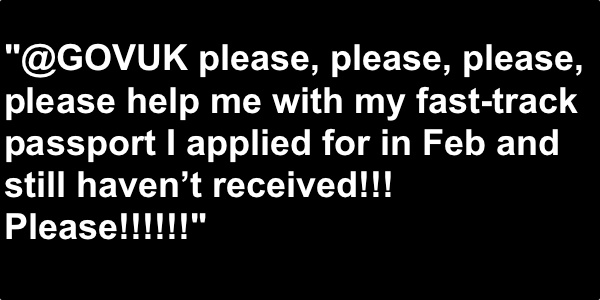 To reiterate, we don't deliver this service but users will naturally and understandably come to @GOVUK on Twitter for support - which we have a duty to provide.
In the case of passports, users typically need to contact the Passport Adviceline for support. Through some further investigation, we found this user had a unique issue and so we had to escalate the query to our colleagues at Home Office. They were brilliant. They did the hard work to resolve the problem swiftly. We ensured the response supplied by Home Office was appropriate for the user. Later, the user then tweeted this: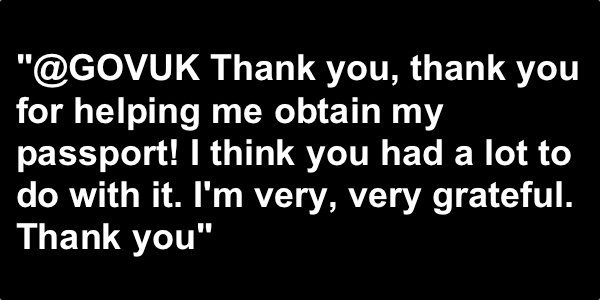 Receiving user feedback like this is the most satisfying part of my role. Happy users mean a happy community manager.
It's the same for queries via @GDSteam. I couldn't do what I do without the support of my fellow GDS colleagues. They're a great help to finding solutions for users. For example, I put forward technical user queries to our experts on Slack, a real-time instant messaging tool for organisations. The real-time responses means I can reply to users quickly and resolve their issue which means happy users.
In our next post, we'll talk more about our content strategy - our content style, approach to planning and what and how we analyse at GDS. Stay tuned.
Meanwhile, you can read more about community management in our Social Media Playbook.
If you have feedback or have a question, please do let us know by commenting below or via Twitter.
Follow Suhail on Twitter, and don't forget to sign up for email alerts.
Notes:
If you work in government and have a message, campaign, or piece of social content you think could be relevant for our channels and our users, then please do get in touch suhail.adam@digital.cabinet-office.gov.uk and marged.cother@digital.cabinet-office.gov.uk.