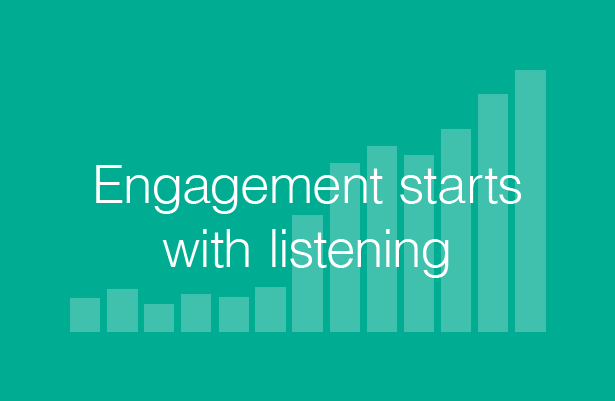 Nowadays it seems like everybody has something to say on the internet.
This isn't meant as a negative statement. It's great that the internet has enabled a level playing field for people regardless of who they are or where they come from. It does mean, though, that there are a lot of opinions and thoughts to take into account.
As you'll probably know if you're familiar with GDS, our users are really important to us. So how do we make sense of what they are saying online?
We start with the obvious step of listening. We use a tool called Brandwatch to help us do this. It enables us to pick up what people are saying about content, services, and campaigns. It should be stressed that there are many different tools that can do this.
What we use it for
Everything starts with a problem or question. This could be something straightforward like how a particular campaign is doing. It can be more complex like monitoring uptake, or what users are saying about a new service.
Listening can help to provide some data to answer the question - nothing more and nothing less. To be effective, all the data captured then needs analysing alongside everything else we know.
One of the most useful things listening can do is provide us with an early warning system when things aren't working as they should. This can be critical in helping with reputation and crisis management.
We've run several projects now: ranging from analysing the recent Budget, through to looking at the campaign to encourage the public to register to vote.
We've learned lots of things from these projects, and we'll be blogging about them in more detail soon. For now, here's a quick overview.
Twitter is where real-time conversations happen
This is best illustrated by...well, every piece of work we've used Brandwatch for so far.
For example, despite the Budget receiving widespread coverage in both national and local newspapers, Twitter actually accounted for 98% of all mentions we found (in total we found just under 195,000 mentions over a two day period). Cue pie chart...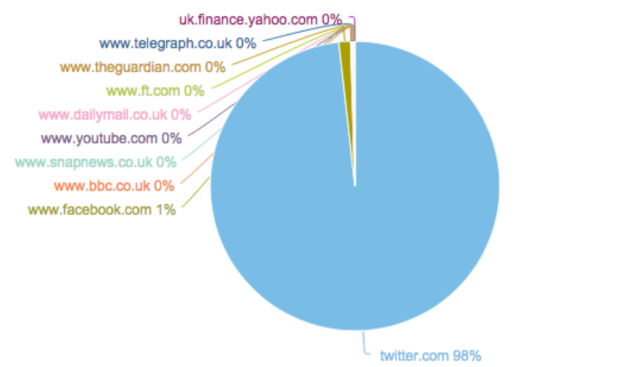 This doesn't mean that newspaper mentions aren't powerful. A lot more people will read a single newspaper mention than may read the vast majority of tweets. However, with tweets you are getting a snapshot of how that individual thinks and feels.
You may be wondering about Facebook - after all it's the most used social network in the UK. Yet, it only accounts for one percent of the total mentions.
One of the reasons that might be behind this is that people are treating Facebook more as a private network with friends and family. If you're interested in this then take a look at this paper by members of the Polytechnic Institute of New York University.
When profiles are private the various social listening tools out there rightly respect those settings. Twitter, by comparison, is the opposite. There are still private profiles, but the majority of people use their Twitter account to broadcast their thoughts to anyone who is listening.
Spotting difficulties
A lot of times we've noticed users struggling to do something. If they contact an official account on Twitter then that's great. They will hopefully get help and move on. But what if they don't? They may be unaware of how to ask for help through official channels, or they may just be reluctant to do so.
Whatever the reason, we need to be aware of what the problems are. By looking out for specific phrases and words about a particular query we can find those users and help them. We can also let the owner of that content or service know that 'a lot of users are struggling with X, so you may want to take a look at it'.
That's good for the user and good for the owner. The majority of stuff that gets released nowadays goes through user testing. Once it's released into the wild it just means there are a lot more users to get feedback from - anything that helps us improve is a good thing.
The best hashtag for the job
We've noticed that lots of campaigns often have multiple hashtags in use. These can be used to target specific demographics, but it can also lead to your message becoming hard to follow and subsequently a potentially fractured conversation.
We can track the evolving use of hashtags over time. Which one is being used the most? Does usage vary over time? Are they well targeted or completely missing the mark? Lets take a look at some of the hashtags used to encourage people to register to vote.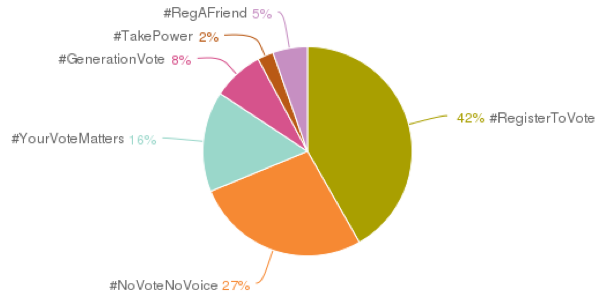 The above shows us which hashtags have been used the most in March. We can then look at the data to make sure the hashtags are being targeted correctly. For example, we would expect to see tweets using #generationvote to be aimed predominantly at students and young voters.
This is just the start
There's a lot more that we plan to do. For example, we're exploring how we can best share the data with our data science team and cross reference it with other data sources to see if we can find significant spikes in service demand.
We're also keen to help other departments and agencies make use of tools like this. If you're interested, drop us a comment below.
There's more to say about what you can get out of digital monitoring, and we want to know what you're interested in. I'll be doing another post about this in a few weeks time. Let us know what aspect of it you want us to talk about.
Disclaimer stuff
We picked Brandwatch after looking at the different services available to us through the Digital Marketplace and we'd encourage suppliers of similar software to join. Before we went ahead with a contract we also spoke to our peers to get their thoughts.
We like the fact that they offer one of the widest ranges of operators (think Boolean logic on steroids) to structure queries with. They're also based in the UK which means if I have a problem in the morning I don't need to wait for them to wake up.
Follow Chris on Twitter, and don't forget to sign up for email alerts.