We defined our users at GDS in my last blog post about managing online communities. We talked about the tools we use and how we resolve user queries. Now we'd like talk about what goes on behind the scenes on our social media channels.  
Planning what to talk about on social media
Why plan? There are a couple of reasons.
Firstly, we need to consider the frequency. 80% of UK users access Twitter via their mobile. Think about it. If users get notification after notification on their smartphone, they're more likely to ignore it. It's been suggested that engagement decreases slightly after the third tweet, so each message really does count.
Secondly, as government - we have a responsibility to only post relevant, good quality content. This is essential in building trust with our users. Considering we have one million followers on @GOVUK and a growing audience on @gdsteam, we want to be sure social media content adds value for our users.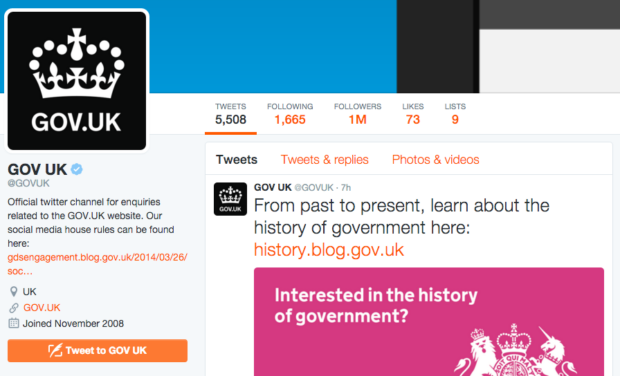 How do we plan? 
For our citizen facing channels, our strategy is to direct users to information and services which sit on GOV.UK. We call this Content as Units of Delivery. We plan with internal GOV.UK teams to ensure we can guide users to relevant content and the services they're delivering.

We also work closely with government departments to understand their priorities and messaging, and then shape how we can make these work for our @GOVUK audience. We support key government campaigns where there is a user need and a service or information that is helpful to them on GOV.UK.
On our organisation channels - eg @gdsteam - our primary objectives are to raise awareness of the digital transformation of government and to share GDS practices and progress. This provides us great content for social media, in supporting the programmes of work carried out by GDS and our colleagues in digital across government. For example, events (like Sprint 16); GDS blog posts from across the team; and ideas generated as a result of continually monitoring our social media channels.
What tools do we use?
Once we have an idea that could work as a social campaign, we add the info to Google Sheets and we collaborate with GDS teams to generate ideas, plus curate existing content.
We work in the open so details such as copy, images, videos, overall structure are all added. Our creative and specialist teams in GDS are then able to see the plans and feedback on the campaign or content.
We use collaboration and planning tools such as Basecamp, Trello and Slack, as well as good-old traditional methods of face-to-face meetings.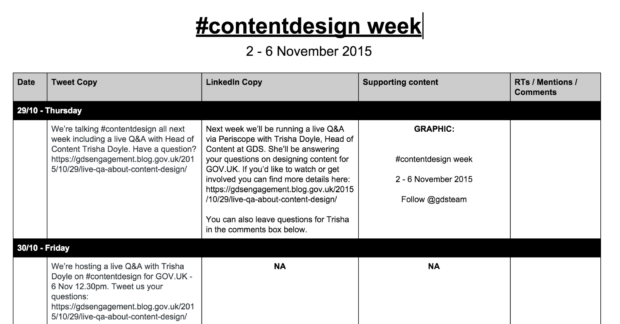 An example campaign: Content design week
Here's an example of a planning template for a recent GDS campaign about #ContentDesign. We run this type of campaign - in specialist areas such as #agile and #userresearch - to provide our users with insights, tips, case studies, how-to documents, and useful tools designed to educate and inspire them.
Content style
We have a unique visual identity for both GOV.UK and GDS social media channels. We stick closely to the GDS Design Principles when it comes to designing content for social media. You can read more about our approach here. We also provide some tips for digital content production in our social media playbook.
Below is an example of a piece of content we created for #ContentDesign week on @gdsteam. This generated high engagement because it was relevant, timely and visual, as well as being useful information about a subject our audience care about.
Long sentences are harder to read and not accessible, so...(read why here) https://t.co/EPRgDRbpIt) #contentdesign pic.twitter.com/hZH5oGnc92

— GDS (@gdsteam) November 4, 2015
Here's an example of content for @GOVUK that saw lots of engagement. You will see a consistent (but not uniform) approach to our content - with simple icons, standard colour palette and font supported by a full, visible URL (we do not use shorteners like bit.ly or owl.ly) and clear call to action. This post in particular, was about firework laws and was posted a day before Guy Fawkes night.
Remember remember the cut-off for firework use is 11pm extended to midnight on 5 November: https://t.co/iTm3LAXezA pic.twitter.com/4ideI3lFHb

— GOV UK (@GOVUK) November 4, 2015
Measuring & analysing
Another essential aspect of community management for GDS and @GOVUK; trying to understand what our users like (and don't like). The aim here is to obtain accurate, and reliable social media data. We use this data to measure the performance of posts, has the message we sent out been delivered well, what could we do to iterate our content or delivery approach eg what's the best time to tweet.

I, therefore, have a streamlined approach to the tools I use. Native platform analytics are used for owned media (those channels which we run) and Brandwatch for earned media (mentions of GOV.UK and GDS outside of our owned channels). I report on a monthly basis across all the channels I manage and then create separate campaign reports for social media activity we run on behalf of GDS.
The aim is to have a standard, consistent approach to all our reports/metrics. We look at engagement (particularly for GDS content and our social campaigns), clicks to GOV.UK (in the case of @GOVUK), user support interactions and types of issues encountered by our users (to share with the wider GOV.UK ops team), plus overall channel growth.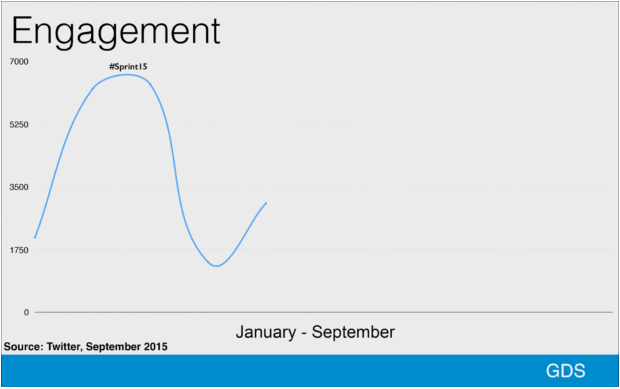 The above graph shows engagement increasing over a 10 month period for @gdsteam. The engagement rate grows on each occasion we run a themed week. The performance data is sourced directly using Twitter Analytics and the same metrics are used for each campaign report we generate. You can see an example of a full evaluation presentation we gave at a TeaCamp event here.
You can read more about community management in our Social Media Playbook.
If you have feedback or have a question, please do let us know by commenting below or via Twitter.
Follow Suhail on Twitter, and don't forget to sign up for email alerts.
Notes:
If you work in government and have a message, campaign, or piece of social content you think could be relevant for our channels and our users, then please do get in touch suhail.adam@digital.cabinet-office.gov.uk and marged.cother@digital.cabinet-office.gov.uk.