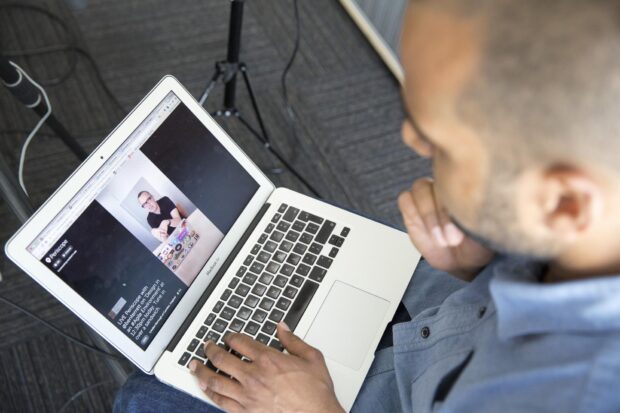 So, Periscope. The app that allows you to live stream events directly from a mobile device to Twitter. We've taken our time here to think about how it can work for us and add value to our followers. We've considered speaker events (a big part of what we do) but feel there are other services out there that are better at capturing these. Plus, for Twitter, we're not convinced that users want to (or have the time to) watch long live streams from their feeds – they want the great soundbites, curated content, and tools like Snappy TV can do just that.
Plus, there is the issue of control and reputational risk. Whilst we're all for experimentation, we don't operate in a sector where we should be leaving good content to chance – where we're essentially 'winging it'. Our users expect quality content from us that they can rely upon and this in turn continues to build trust.
So, when we live broadcast, we need to create a controlled environment. Something that is probably conceptually opposed to what Periscope is all about ('exploring the world through someone else's eyes') but for us, is important.
Therefore, short (10/15 minute) interactive interviews are the way we intend to go with the mobile app, for now, at least. And our first was with Ben Terrett, Director of Design, on Design in an Agile Environment. Users were able to submit questions via Periscope and Twitter and Ben answered them live.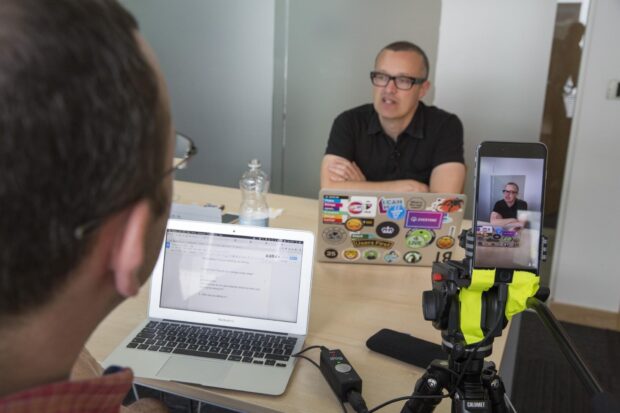 We learnt a lot. Mostly about the things that Periscope isn't so great at. And it's these things that require a little bit of pre-planning to make sure they can be managed.
Below are just a few recommendations from us if you're thinking about using live-streaming apps for Twitter.
Practice
If possible, and especially if you're trying Periscope for the first time, rehearse with a dummy account. There are lots of things to get right like titles, proportions, getting used to user comments appearing and disappearing fast. Plus, there are a number of spam accounts that will follow your broadcast. While this isn't a huge issue (there's not much you can do about this if you choose to make your Periscope public) you will need to keep an eye on nuisance comments.
Moderation
Related to the above point, if your broadcast is public you will need someone controlling the feed ready to block nuisance users if necessary. We didn't have any problems with this during our broadcast, but it is something to be aware of if you are streaming high-interest, public and/or media events.
Pre-planning
To ensure the broadcast flowed and stayed on topic we scripted an introduction and some of the questions ourselves to get the ball rolling. We then had one person feeding through user questions to our interviewer from Periscope, and another from Twitter. We did this using a shared Google doc. Ben was also fully briefed beforehand on advising users how they could get involved.
Kit
You need it. We had a mic (iRig), tripod and lighting for our interview. You'll need this even more if you want to use live-streaming for large-scale events. The tripod and mic are absolute musts if you want to ensure good quality coverage.
Backdrop
For interviews, avoid cluttered backgrounds. You don't want anything distracting users and clogging up the feed with off-topic questions/discussions. Simple branding should be fine but avoid anything else.
User experience
The web experience is not as good as the mobile one. You need to explain to users that if they are viewing the Periscope via a desktop they will not be able to interact. This is important as when we did a dummy run this confused a number of users who naturally accessed the broadcast via their computers as they were at work. We therefore drafted a blog post and promoted this before the live-stream. We also mentioned within the broadcast that desktop users could get involved via @gdsteam Twitter. (A quarter of our viewers were via a desktop).
Pre-promotion
You need to let people know you are running these broadcasts otherwise how will they know to tune in and participate? In the case of Ben's interview, we did outreach to a number of Design schools and Universities who in turn shared our announcements. We could have done a lot more to really make this fly.
Accessibility
This is a big one for us. Periscope is not accessible so the only way round this is to download the film after the broadcast, get it subtitled and transcribed, and added to YouTube to share. We have done this, and made sure the link to the broadcast was shared via Twitter the following day.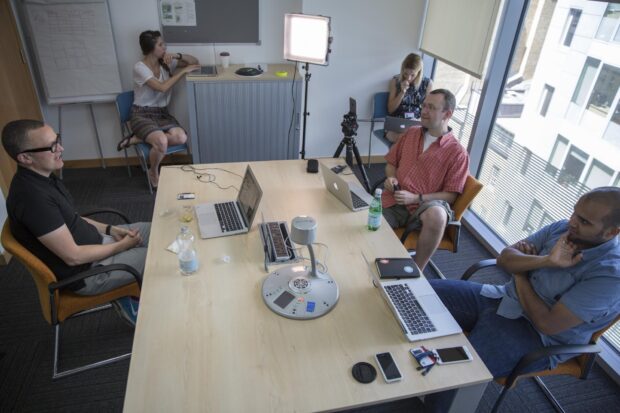 We've still got a lot to learn and we certainly didn't get everything right. But we had some great feedback from users so will continue to test running live broadcasts – albeit in a controlled way.
Follow Georgina on Twitter, and don't forget to sign up for email alerts.