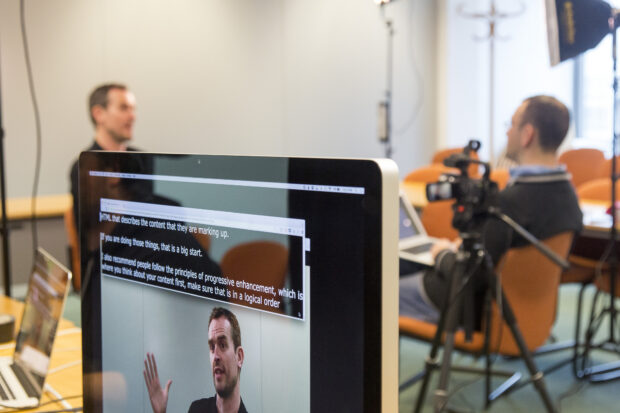 Over the last few months, we've been doing themed weeks on social media. We started with a week on agile, then user research and service design. This week was all about accessibility.
For each one, we've done a live Periscope broadcast with an expert. These broadcasts have been very popular, but there's a problem which we've known about and struggled with from the start: Periscope isn't as accessible as we'd like it to be.
To date, we've worked around this by getting each broadcast transcribed as soon as possible after the event, then posting the transcription online. But we've always wondered if there was a better way to make the actual broadcast itself more accessible.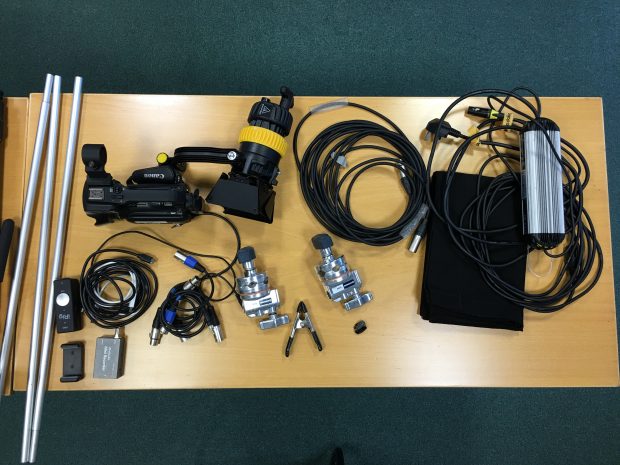 It's complicated, but it works
The challenge was to get both the live transcription and the video visible in Periscope. This isn't possible to do within the Periscope app, so we had find another way.
The solution we came up with involved a lot of wires and a lot of planning, but it worked.
We combined the live footage and transcription on a laptop, then put both on a large second display screen, which we then filmed using the phone connected to Periscope.
The camera feed of the interview went directly into the same laptop, and we viewed this using Youtube's live events streaming service. We didn't stream it, though - we just used it as an easy way of displaying the live video within a browser window.
Meanwhile, we had to send live audio of the interview to a remote live transcriber. To do this, we fed the interview microphones into an audio recorder/mixer, and from that sent a stereo mix via USB to another laptop connected to the transcriber via Skype. A second audio feed went out from the mixer into the phone filming the screen.
The transcriber typed into a web form and the text was displayed in a browser window on the large display screen. On the display laptop, we were able to arrange two browser windows - one with the live video footage of our interview, and another above it with the live transcribed text.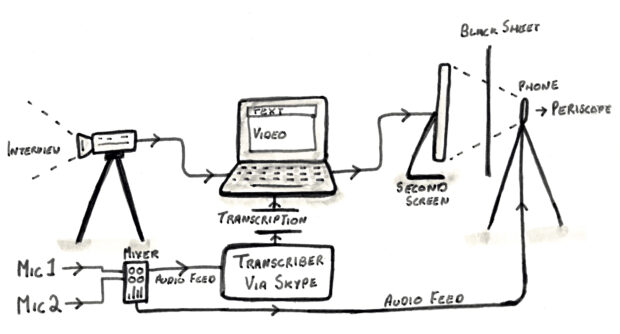 We iterated to this
Getting to this solution involved several tests, which highlighted some other issues that we had to overcome. The first thing we noticed was reflections on the display screen. To overcome this, we filmed through a small hole in a black sheet. It looked a bit odd, and it's not ideal, but it worked.
Another issue was the positioning of the two browser windows on the display screen. In early tests we started with the transcribed text at the bottom of the screen, below the video footage, but quickly realised that this would mean the text would be masked on Periscope by incoming comments from viewers. That's why we moved the transcription text to the top of the screen, and just adjusted the framing of the interview to allow room in the shot.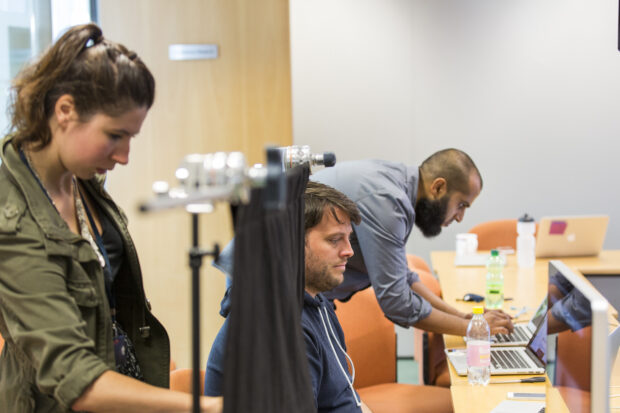 What we learned from doing it once
Periscope is a terrific tool for live broadcasting via social media. We'd love to see it become more accessible by default, but the work we put into this broadcast shows just how difficult that will be. We hope the team at Periscope will at least give it some thought.
What we learned was that a bit of old-fashioned hacking about can achieve great results. The room we filmed in ended up becoming a mess of wires, tripods and light stands, and the set-up time was considerable. But it worked. (If anyone out there has suggestions for doing it more simply or in any other way, please get in touch by leaving a comment below, we'd love to hear them.)
Of course, making Periscope accessible for accessibility week isn't enough. We want to make all our live broadcasts as accessible as possible. The main thing we learned this week was that in future, we'll have to do the hard work to make that happen.
It was fun though. So we can't wait for the next one.
Follow Mark and Graham on Twitter, and don't forget to subscribe to the blog.