Could you describe what your team does in a single Tweet? Recently, I asked all the Technology Group teams to do just that, and the results were terrific.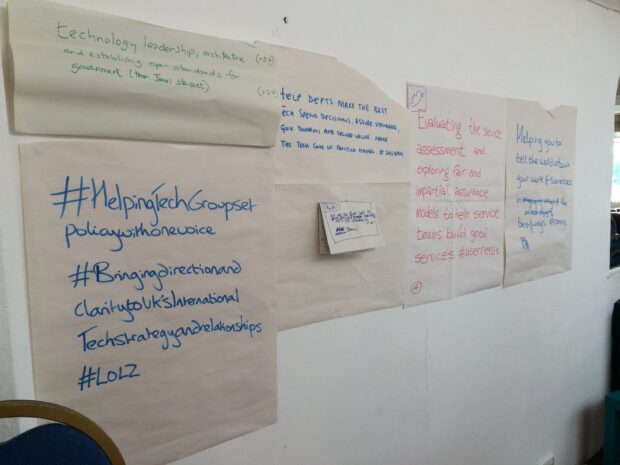 Compressing your thoughts and ideas into 140 characters takes quite some consideration. What matters most to your readers? Brevity wins over excess; and hashtags and carefully chosen words can speak volumes in terms of tone and impact.
Who are you?
The Technology Group in GDS is changing, and that gives us a good opportunity to re-think how we communicate our work. We're in new teams with new structures. The away day was a chance for all of them to get together and consider who they were and how their role fitted into the wider Group. It provided a format which removed us from the usual office environment to consider who we are without perceived prejudices or hierarchies.
What do you do?
Each team broke off and had 20 minutes to discuss how they would describe themselves in 140 characters. It was their choice how they would do this. All they were given was a flipchart, pens and post it notes.
The difference in approach was staggering and certainly spoke to their skills. The assurance discovery team (complete with user researcher) started by identifying the key tasks the team delivered and writing each one on post it notes.
Public Services Network decided to take a more disruptive approach and crafted their tweet as a Haiku. The Strategic Policy and International team focussed on the importance of the hashtag, and ended up realising that when using a hashtag you can be a bit more creative with the use of spaces and make full use of the 140 characters on offer!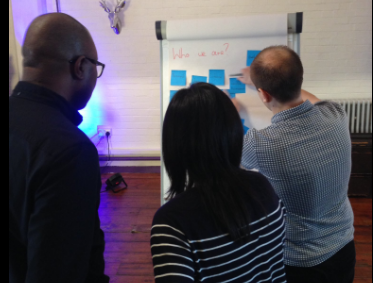 The deadline pressed people to think quickly and didn't allow them time to dwell on the minutiae of individuals but rather to consider their group as a whole. Questioning if explanation was required made the teams realise that the wording could be more effective for the user.
What do you think?
Once all tweets were written down we came back together as a group and read them out one by one. Pausing to see if the wider group agreed that our impression of the teams was reflected within the tweets. If there was a wild disparity it could highlight an area where more engagement work needed to be done to promote the work of the teams, internally as well as externally.
Resoundingly we all confirmed that people's' tweets matched our expectations of their teams, and applauded the liberal approach with hashtags some groups had taken. This is not a reflection on my work as their engagement lead but a rather a reflection on how seriously they had taken the task.
What were our 140 character summaries?
PSN wrote a haiku:
We are the beat cops
Ink dries on a rubber stamp
Info-sec assured
Boom!
Assurance discovery wrote:
Evaluating the service assessment and exploring fair and impartial assurance models to help service teams build good services #userneeds
SAS wrote:
Help depts make the best tech spend decisions. Assure standards, govt domains & secure value. Make the tech code of practice happen #sasteam
Open standards/Tech leadership/Tech archs/Architecture discovery wrote:
Technology leadership, architecture and establishing open standards for government #teamjamesstewart
SPI team wrote:
Helping tech group set policy with one voice. Bringing direction and clarity to UK's international tech strategy and relationships.
Digital engagement wrote:
Helping you tell the world about your work and successes in the best and most engaging ways. #comms
What now?
We have proudly turned these tweets into posters which each team has put on their walls in Technology Group.
There is a sense of pride being able to see your work turned into something tangible, even more so when it is something crafted as a team.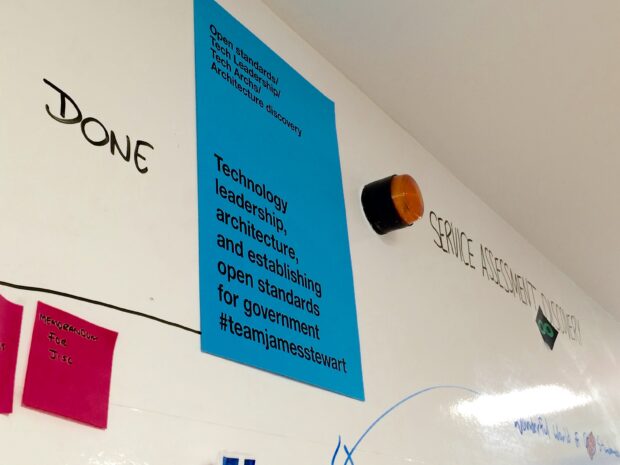 Perhaps more important than the posters is the work done to reach those 140 characters. The discussions, the debate, the culling of characters. The selecting of a suitable hashtag. The opportunity to craft your own identity in a way that is accessible and concise.
As I was recently told: brevity for the sake of clarity. A tweet. In a nutshell.
Follow Lucy on Twitter, and don't forget to sign up for email alerts.