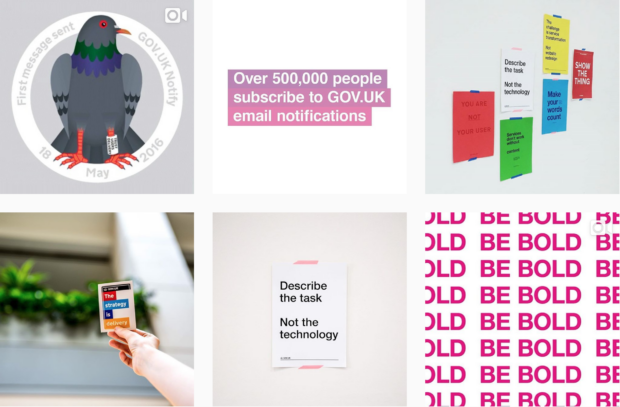 We use social media at GDS to tell the story of the people who work here, and the innovative work they do. We also use it to show our culture, values and what a great place to work this is.
We use a mix of channels to do this, including Instagram. In the past, it's primarily been a place to show images from events such as Sprint 16 or activities we've been involved in. But it's time to move the channel on from recording events to really bringing the organisation to life. And of course, we want our content to stand out in a user's feed filled with celebrities posting selfies or dancing cats.
Using data to inform our strategy
Our monthly analysis from Twitter, Linkedin and our main GDS blog shows us that our content about culture and values is popular, for example, our blog post  'It's ok to' by Giles Turnbull. So we decided to explore how best to show behind the scenes, and encourage people to come and work in government digital.

Experimenting with different posts
Instagram's photo and video capability is an ideal way to show users the values, principles and people at GDS. It offers an insight into our organisation that's easy to view on mobile devices.
We've started experimenting with posting images that show GDS as an inspirational place to be. The Design Team at GDS have always made posters that highlight our values and our work, and you see a lot of them as you walk around our office. So this was a natural place for us to begin to show our way of working. We experimented by shooting posters in different ways: trying different backgrounds, props and angles.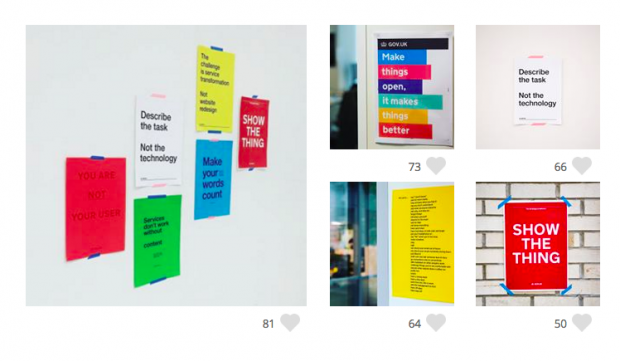 We also tried photographing stickers – something else GDS produces a lot of – but we found the text on them was hard to read. So we turned some of them into short videos – with the animation emphasising the messaging. The 'look sideways' post below, which encourages everyone to look around them and collaborate, is a good example of this. The eyes move, to complement the wording.
Trialing new features
We're keen to adapt to the ever-changing options provided by social media platforms, in order to engage with our audience in the most relevant and cost-effective way. When platforms introduce new features that add to the user experience, we like to test how they improve our engagement and deliver our objectives. Take Instagram Stories, for example: an option recently made available in the Instagram app.
What Instagram Stories are
Instagram Stories allows users to broadcast short videos and annotated images that appear on Instagram for a maximum of 24 hours, rather than remaining on the user's page like a traditional Instagram post.

There's a real vibrancy and immediacy to using Stories to deliver a message - Instagram requires the social team to take the photo or video there and then. While you can opt to not publish after previewing, you can't upload an existing photo or video already on your mobile device. This brings great spontaneity to the content, and authenticity for the user.
What we did with Stories
It's perfect for short videos of talks at events, capturing the speaker in the moment, rather than a professionally produced film. We trialled it at our first Unconference on 8 September.

Taking pictures and short video clips from talks throughout the day helped the user experience the event as if they were with us on the day.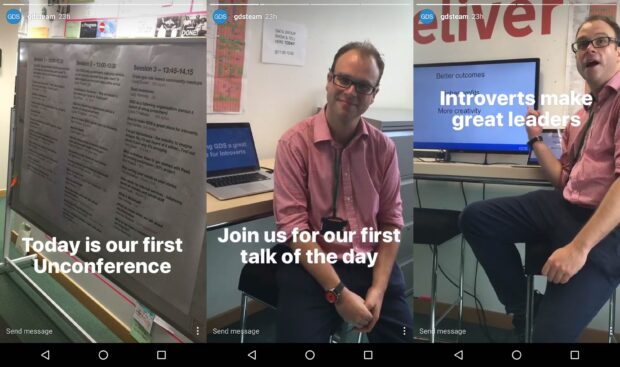 Sounds great! What's the catch?
While Stories are an easily digestible form of content and are an effective way of getting across an extended narrative, they are not particularly accessible. Currently, Instagram doesn't have the capability to alt-tag content, which isn't great - inclusive design and accessibility is really important to us.
So this will be something we will reassess in future months.

The results so far
The graph below shows our average and total likes per month. Total likes have crept up naturally each month. But average likes per post have increased by 500% since February 2016, going from around 10 likes per post to around 60 in August. That's a significant jump since we began our new approach and can be directly attributed to the strategy and content.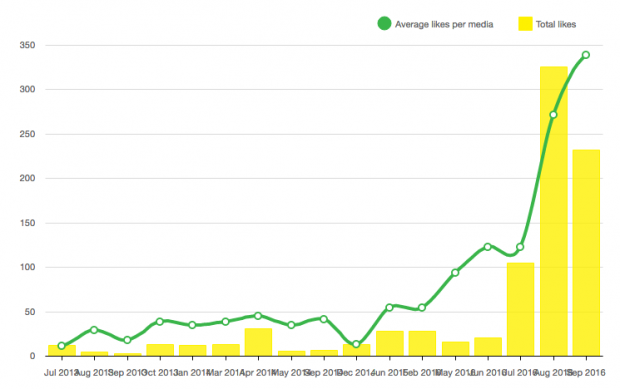 For our first Instagram Stories post, we received more than 100 views, which represented over 25% of our audience for that 24-hour period. We're happy with the results from the experiment as engagement increased, and we can also take our learnings into our next use of Stories.
We think it's an encouraging start and we'll benchmark and build from here.
How do you use Instagram? What's worked for you (or not)?
Follow us at @gdsteam, and don't forget to subscribe to the blog.