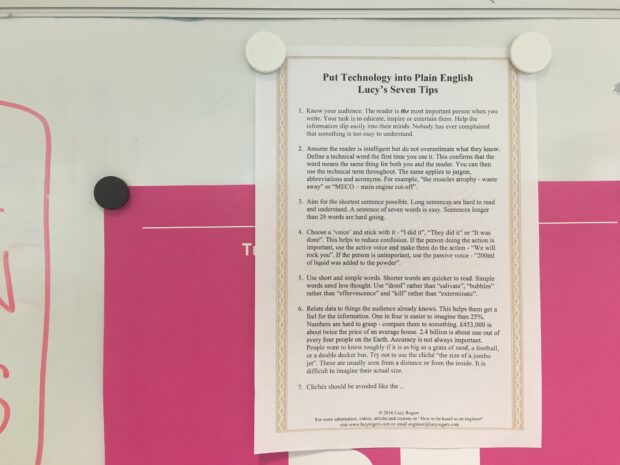 More years ago than any of us care to remember, I went to school with a bloke called Ben Rogers and through him, met his sister Lucy.
Fast forward all those years, and Lucy is now Dr Lucy Rogers, one of the judges on this year's rebooted Robot Wars TV show, and a successful scientist, engineer and educator.
Lucy is one of those rare people who can communicate clearly about their specialist subject. That's what makes her so good as an educator about science and engineering.
She's written up a one-page list of tips for writing about technology in plain English - intended for her colleagues in engineering, but applicable to a much wider audience than that. Like people in government, perhaps.
Government is often technical
One of the problems we have in government is explaining the complexities of our work to other people.
Sometimes, those people are colleagues - perhaps in another team, or another government department. Sometimes they're senior decision-makers like permanent secretaries or ministers. And often, they're members of the public who are taking an interest in the work they are paying us to do.
No matter who the audience is, we should always remember that to people who don't know about the specific thing we're working on, the details might as well be as complicated as technical engineering terms. (Sometimes, when we're talking about software and hardware, they *are* technical engineering terms. But not always. Writing about policy and strategy can be just as complicated, and just as hard to understand if you're not familiar with the detail.)
So Lucy's tips for engineers are equally useful for civil servants: know your audience, try to understand what things they don't understand, keep it simple -- it's all common sense. But good to be reminded of. 
I wanted to share Lucy's tips with my colleagues in government not because she's on TV, and not because I used to go to school with her brother, but because they're really good tips, and lots of people in government could benefit from them. Thanks Lucy.
Follow Giles on Twitter, and don't forget to sign up for email alerts.