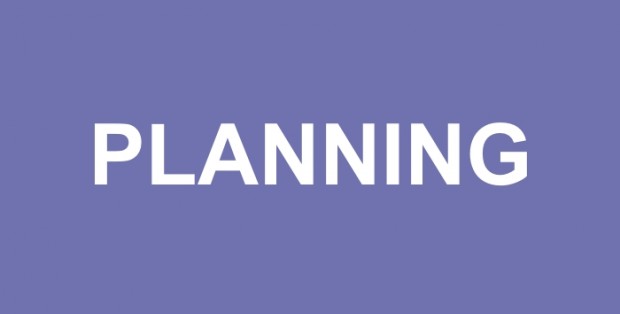 2015 is predicted to be the year of content marketing. Wait, we've heard this before. But, with 70% of marketers saying that social media is the most effective content marketing tool in reaching a target audience, it becomes clear that having a strategy in place is vital.
At GDS, we've discussed strategy and planning a lot (read our social media playbook, for example). But, so far we've focused less on the practical aspects of content creation and publishing. However, content planning is a must for us - we have 5 communications channels, 4 content hubs, 14 blogs to coordinate; all with different audience considerations and messaging priorities.
Where we start
We need to put the creativity to one side (just for the moment) and focus on the process.We have multiple programmes of work at GDS, plus wider government initiatives that we need to support. We, therefore, have to work closely with departments to understand their priorities, and then filter these through to pull out those relevant to our users. We do this via collaboration tools like Google Docs, Trello and Basecamp; as well as good old face to face meetings.
Once we've identified the messages we should be supporting, we discuss how GDS can get involved; for instance with content creation (imagery, copy, Twitter Cards, or video). While we don't campaign ourselves we do support other departmental campaigns if we can drive users back to GOV.UK.
Listening to what users want
We have a very engaged community on @gdsteam. For content, while we support wider corporate themes, we also listen to what our users want from us.
For example, we received several mentions about agile management at GDS. So, we are now working with our in-house agile experts and content designers to develop educational and inspiring social media content about agile methodology and how it's implemented at GDS. We plan to do the same for user research and data as, again, we know these are areas of interest to our users based on engagement rates from previous posts on Twitter.
Events
Upcoming events and conferences involving speakers from GDS are also plotted on the planner. In the lead up to an event, we look at what we would like to communicate in real-time from the event itself via Twitter and Instagram. This could be live-tweeting speeches, video streaming, or panel Q&As.
If it's a GDS event (e.g. Sprint 2015) or when a GDS speaker is the keynote speaker, we would aggregate the best content from the day in the form of a summary blog. We aim to share the summary blog within 24 hours of the event ending to maximise reach. You can find more information about how we manage social media at events in the playbook.
Blogs
GDS owns 14 blogs. You can be guaranteed a post being published at least once a day - sometimes as many as 5 posts in a single day. These need to be shared on social media, but in a coordinated fashion; we want the message to reach our users, but we don't want to overwhelm our audience.
All these ideas for content get plotted into our content planner, which looks something like this: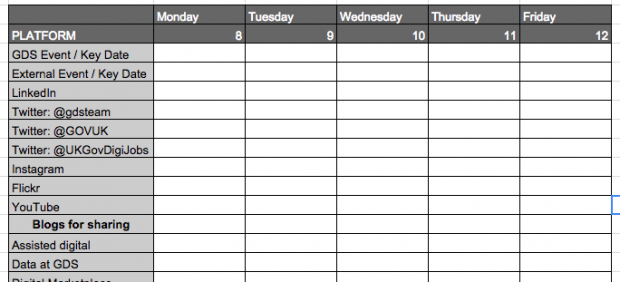 The planning benefits
Content planning is extremely valuable. If used correctly you can see huge returns in engagement on social media, and even increase traffic to your blog or website.
The benefits of planning include:
Creating content ahead of time
For government services and campaigns such as DVLA's #nomorecounterpart and UKTI's #ExportWeek (and many more), we create unique assets that have a style and tone that audiences following @GOVUK are familiar with. By using a content planner, we can plot campaigns and priorities and then our design team can create the assets when necessary.
Recognising gaps in the calendar and then filling them
We fill the gaps with evergreen content or source new content. For example, if our design team are shooting a long-form video for YouTube, we tag on bite-sized extras at the end of the shoot (i.e. a quick three questioned Q&A or get the interviewee to sum up their commentary in 20 seconds). These clips can then be then used on Twitter.
'Content is at the heart of everything' explains Beck Thompson, Product Content Lead, in this short video. https://t.co/3O9SYEVWM9

— GDS (@gdsteam) June 9, 2015
That's not to say, however, that we're creating content for content's sake. The focus needs to be on quality, not quantity. Our job is to seek out great content opportunities - not just desperately create 'stuff' if there happens to be a gap. We only post content that we know will resonate with our users.
Creating content around key themes, events and dates
We do occasionally support campaigns led by other departments, particularly major announcements that are about to take place and where they relate to content on GOV.UK. Additionally, there is lots of relevant information on GOV.UK for users that is tied to key calendar dates such as Bank holidays, summer holidays (foreign travel advice) and Guy Fawkes Night (UK Fireworks Laws). We place these calendar dates in the planner for sharing at the appropriate time.
Consistency in messaging
It's important that messages are consistent, particularly if you have a number of channels to manage. To help with this, coming up with a content theme or topic area in which to hang lots of engaging tactical ideas off can be useful. This themed content could run across a week or a month or whatever makes sense to you. Plus, consistency in the visual identity of content is important in building a familiarity and trust with users.
Collaboration
A planner (in a digital form) can also be shared with anyone inside or outside the immediate team/department. This helps with showing colleagues the type of content you are currently working on, and asking for their input.
Remember, all the content you plan needs to align with your social media objectives, the role your channels play, and what your users have come to expect from you.
In summary
A social media content planner will not instantly give you 100,000K followers or thousands of retweets. It provides a process to plan and maximise engagement with your users. Ultimately, the planner brings the Digital Engagement team together to a single place where we can visualise and execute our shared goals. This can only lead to good things.
Follow Suhail on Twitter, and don't forget to sign up for email alerts.
Content planner templates...
There are tons of examples of content planner templates available to download. For example, you can download 14 free content calendars through Crazy Egg or see these eight free templates on Econsultancy. The type of content planner depends on your needs and objectives.